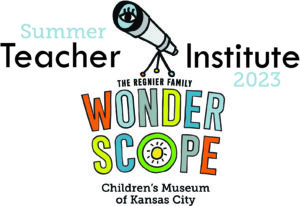 Summer learning opportunities for early childhood through second grade educators!
Join us at Wonderscope for any or all of our half-day workshops, where experienced professionals will provide you with valuable tools and tactics.
Workshops will be held at The Regnier Family Wonderscope Children's Museum of Kansas City.  Attend any or all! The cost is $30 per session. There will be a half hour of optional social/networking time to chat and get to know the other attendees before each session starts (8:30-9 in the morning and 12:30-1 in the afternoon).
Friday, July 7th
Morning Session (9am-12pm) Using Play in Conflict Resolution
Afternoon Session (1pm-4pm) Creating Inclusive Classrooms for Neurodiverse Students
Friday, August 4th
Morning Session (9am-12pm) STEAM Activities for the Classroom
Afternoon Session (1pm-4pm) Using Technology in the Classroom
If you have any questions about the Summer Teacher Institute, please email Director of Program Development and Evaluation Natalie Ortega Wells at nortegawells@wonderscope.org.